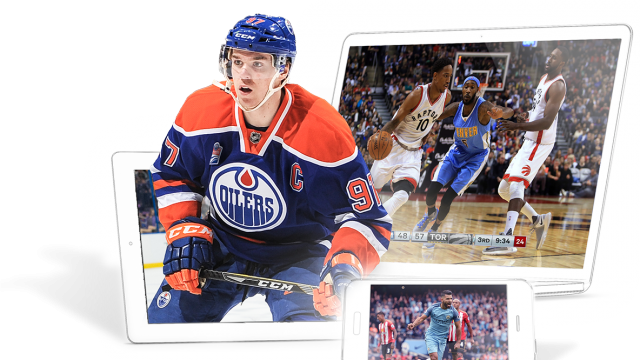 September means that the weather starts to get colder, but the sports calendar starts to get more and more full. NHL training camps open, pre-season begins, MLB playoff races reach the homestretch, Grand Slam of Curling starts back up again and the IndyCar season comes to a close.
Sportsnet NOW has you covered for it all.
Here's what we've got streaming this month:
MLB:
Sportsnet NOW is the Exclusive Home of Everything Blue Jays. Catch their final 28 games of the season this month.
33 other MLB games this month. Catch all the action as the playoff races go down to the wire, including matchups featuring the New York Yankees, Boston Red Sox, Los Angeles Dodgers and defending World Series Champion Chicago Cubs.
Soccer:
19 Premier League games this month, including 10 games featuring Liverpool, Manchester United, Manchester City, Chelsea, Arsenal or Tottenham
2018 World Cup Qualifiers, taking place September 1-5th
NHL:
Sportsnet prepares for the upcoming season by airing 12 preseason games this month, including Vancouver Canucks games in Shanghai and Beijing
Grand Slam of Curling:
A new season of the Grand Slam of Curling kicks off this month. The first of seven stops on the tour begins with the Tour Challenge from Regina, Saskatchewan, September 7-10th.
ESL TV:
Beginning at the end of the month, Sportsnet NOW will have a new, 24/7 channel dedicated to all things eSports. Watch the top matchups for the biggest tournaments including DOTA2, League of Legends, Overwatch and more!
IndyCar:
The final two races of the season go down September 3rd and 17th from Watkins Glen and Sonoma. Tune in to see who will take home the Drivers' Championship.
Plus more:
WWE: Monday Night RAW and SmackDown LIVE! every week
Davis Cup Tennis September 15-17th
Available Devices:
Desktop (through now.sportsnet.ca)
iOS and Android mobile & tablet, Chromecast, 4th gen Apple TV and Xbox One, all through the Sportsnet app